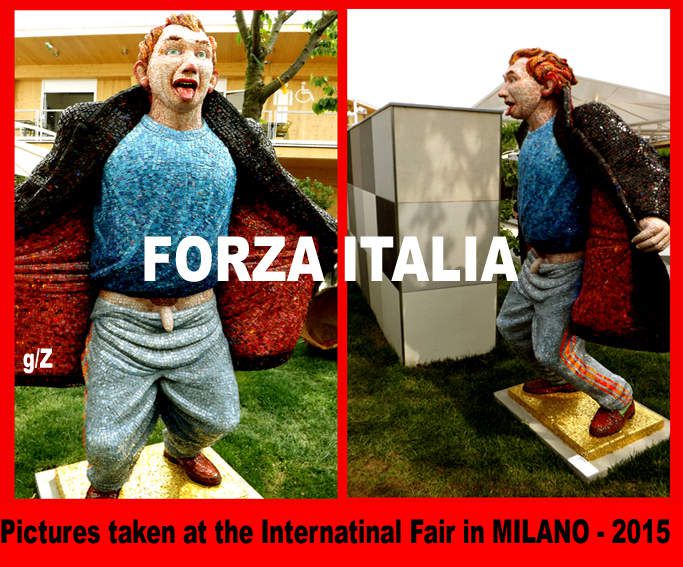 Only Italians could display such a thing: At the Universal Expo in Milano 2015, a statue of an exhibitionist man has been exposed, with its full "toolbox": a visible penis, a tongue hanging and eyes rolling. Personally, after taking some pictures, I loved this theatrical gesture! Purely an old civilization like Italian knows how to put things into perspectives; at least, in the right place: laughing and turning into derision in spite of our technologies and knowledge, because, and after all, we are some poor concupiscent beasts, or a bunch of educated pets sexually oriented if you prefer...
The question is: Where are the censors? For sure, when Mister Obama reads this paper, it will be no chance to plan any visit of the President in this modern Sodom and Gomorrah. Not to mention the religious freaks, shouting hysterically vade retro, Satanas!
I would bet my red Porsche, that, soon this piece of art will be "Shelfies" around the world. Even so, the statue stands hidden behind a thicket, which is quite normal for such "outdoor activities". The pervert lurks into the dark coppice, and, suddenly when the innocent bird walks by, he popped out and exhibits his private parts. Dammed!
Otherwise apart laughing
I loved this bash. Okay, it is advisable to be a good walker with both eyes widely opens; better be an architectural lover and an unconditional fan of innovative ideas. On the top, coping with the blend of food smells, loud sounds and music that interweave to each other's. Not to forget the changing weather from beautiful to stormy, from hot sweaty to the chilly. Nevertheless, everything has been well-balanced by the good spirit and the nice and warm welcome demonstrate by staff members.
Here Some practical tips from my own experience, so take it with caution or at least with caption (lol)
Do not stay in any hotel in down town Milano: overpriced, traffic jams and no parking place. As I came by car, I found a small hotel at 45 Euros a night with breakfast buffet included within the town named Cesano Maderno, which is about 15 miles away from the city.
I have to confess that, what I like in Italy, because of my numerous visits it is this natural ability to be friendly, smiling, and accommodating; "Tutto bene" (everything's fine) is the motto. In my hotel the Groane Hotel Residence, the manager has not winced when I arrived at 10 am, while the bedrooms are for rent from 2 pm... In addition, as I have to wait 10 minutes, the manager offered me an espresso "tutto bene" ...
The lead from the hotel to the Expo site.
I had to drive south for about 10 miles, to a place named Rho. Soon enough I recommend taking a parking for the day at 12.5 Euros. A bus shuttle takes you to one of the 4 entrances after 20 minutes. You buy your daily ticket for 39 Euros, you pass the security gates and there you are!
We can always say that it is a waste of money especially for some very poor countries, yet, they have their own exhibition building. Yes! Again the incredible megalomania of the country's leaders! You're right! Anyway, I continue my storytelling... What I liked most was the friendliness, and the spirit let by all these youngsters mostly Italians, who work on site with some foreigner's partners. English is not the forte of these people from Italy, but it off sets by the Latin charm, the smiles and in general, by their easy go attitude.
And... Who's distinguished themselves... The French! Yes, I know, again my anti French speech; I cannot help it; I suffer from it and yet I am treating myself by visiting Italy.
The French Pavilion, built in whole wood, stands in the middle of a vegetable garden. That's good and beautiful, but ... If you want to enter the pavilion you will be obliged to go through that botanic labyrinth... Why? Because, you MUST look at the growing plants... It has no other alternatives, period! While elsewhere everyone goes in and out freely, well, here, no way! "You have to watch these plants asshole!" Always duress, always wanting to educate the masses against their own wills artchung! "Our great thinkers from our elite schools are here for anticipating our shortcomings." But you know what? I did not visit the French pavilion and I survive!
For the record I have discussed at length with the young Italian woman responsible for directing visitors through the famous vegetable garden. She spoke French without an accent and told me that, this morning, "one more time" a politics came, blocking all exits and thus making his little solo tour...This exhibition will certainly be an opportunity again for all those gnomes elected or appointed to come and pretend to be some important hot shots at the expense of the public money... I would suggest that, instead of a wooden ecological house, the French Pavilion been a huge yellow banana, yeah! As the symbol of a bananas republic ...
Behind the scenery, knocks realities
In this Expo, a multitude of small hands works, collects and cleans; these employees are certainly the former blues collards from this industrial basin ...
By renting an hotel in a small town, far from the lights of the big city, in first hand I could see the whole damage. It is a beaten country. It's amazing the number of old closed factories and old workshops. Every building has collapsed and it looks like the return to the area of "unfathomable forests". There are also these huge abandoned farm houses, where a century ago landowners had the right of life and death over the "countrymen"; (See Bertolucci's film"1900"); By driving to that desolated land; it is a real sadness to observe all these old stones collapsing ...
But to compensate, there are like at home, roundabouts every 500 meters, Carrefour hyper markets every 10 km and fast foods every hectometers; an Heaven on earth recreated just like that!
Anyhow, every time I spend time in Italy, I tell myself that I should find a teaching job, even though knowing that, everything is complicated, everything works with the "combination", meaning, "you know the right people in the right spot". Furthermore, Italians live in a tight family clan and are very smart when it comes to outsiders. They stick together and therefore would maneuver to get what they want from you ... With a large smile. But yet, yet, they give me faith in humanity: they are the ones who are laughing at everything. And finally, life get lighter because of the "ragazzas, bellisimas" ! The beautiful, and sensuous Italians ladies...
Tutto va bene!
Georges Zeter/May 2015
Check the slideshow of the pictures taken during my visit